---
As an employer, you know that attracting and retaining talented, dedicated, and hard-working employees is the key to your success. You also probably know that attracting the right people to your company means offering a great retirement plan program that will help them pursue building a secure financial future.
We can help you streamline the process, understand your responsibilities, and manage your Company's 401(k) plan.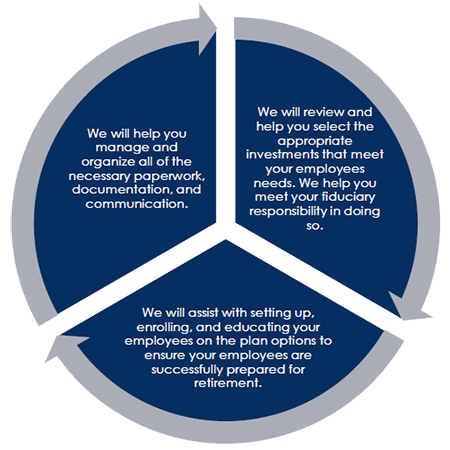 We understand how confusing and intimidating being a plan sponsor can be when you hear words like investment fiduciary, investment due diligence, plan compliance, and improving employee retirement readiness. Sponsoring a retirement plan probably seems like a second full-time job, with risks, responsibilities, and ongoing administrative chores you really did not sign up for, but understand are necessary to assist in setting employees up for financial success.
Why should you choose us to help you and your employees?
Our goal is to ensure employers and employees are well informed when choosing the right 401(k) plan that best suits their company. Financial planning is not one size fits all. We are dedicated to coming alongside the employers and employees to assist in an all-encompassing financial plan, which in turn enables clients to focus on what they do best. In addition, we strive to create personal, long-term client relationships that are the foundation for turning life's aspirations into financial realities. Jumet Financial would welcome opportunity to be your partner and take the mystery out of sponsoring a 401(k) plan by assisting in the oversite.

Our Team will provide the following:
Preparation of quarterly reports
Investment monitoring, with quarterly notifications on fund changes
Comprehensive fee analyses to make sure you are getting the value you need for the services provided
Benchmarking reports to help gauge improvement in employee engagement with the plan
Periodic plan services reviews to help determine what is working and what needs to be improved

Our goal is to help you and your employees reach their financial goals!
---

This information was developed as a general guide to educate plan sponsors but is not intended as authoritative guidance or tax or legal advice. Each plan has unique requirements, and you should consult your attorney or tax advisor for guidance on your specific situation. In no way does advisor assure that, by using the information provided, plan sponsor will be in compliance with ERISA regulations.